With a majority of bands spending the summer on the Warped Tour, it seems that us on the other side of the pond have to wait until the new year or spring until we are given our turn, Although it's barely January and we've already been given a delicious selection of tours to look forward to in 2015. Here's ten tours that we've been told are hitting our shores next year that have got us excited for 2015
Save Your Breath (farewell tour)

Photo Credit: Jemma Dodd Photography
Support: As It Is + Cardinals – January 22nd – 30th
Welsh lads Save Your Breath have decided to call it quits after doing their rounds on the circuit for the past few years. Chances are you've seen them support someone but this will be your last chance to see one of the most underrated pop punk bands the UK has to offer so do yourself a favour and go say goodbye.
Neck deep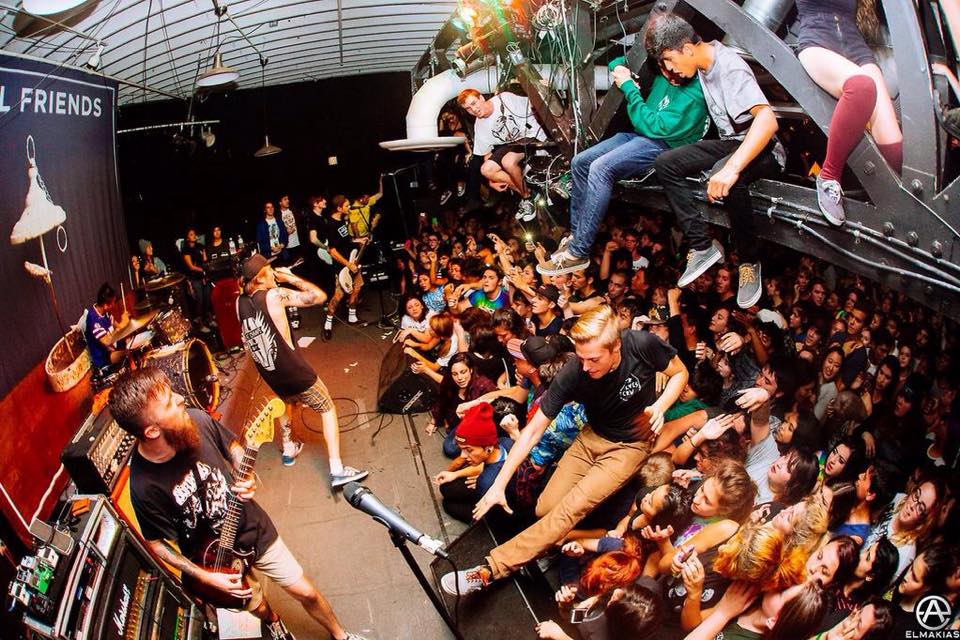 Photo Credit: Adam Elmakias Photography
Support: Knuckle Puck + Trophy Eyes + Seaway – January 26th – February 6th
Champions of the current UK pop punk scene, Neck Deep never seem to stop touring recently and they're kicking off the new year with a show you definitely will not want to miss. If Neck Deep aren't your cup of tea you can pick from Canada's Seaway who will put the pop back into pop punk, Australia's Trophy Eyes to shove their melodic hardcore into your ears or if that's not enough America's soon to be heavyweights Knuckle Puck are also on the bill.
All Time Low joint headline with You Me At Six

Photo Credit: Adam Elmakias Photography
February 9th – 14th
Two of the most reliable bands of the scene over the past 5 or 6 years have seen both bands achieve great commercial success, and one of the reason is that they both know how to how to deliver in the big time. Although it's an arena tour you'll get to see both bands at their best.
Andrew McMahon (solo tour)
February 22nd – 28th
The voice and talent behind Something Corporate and Jack's Mannequin, Andrew McMahon is the coming over in February for a stripped down solo show that will have you witness incredible song writing for a generation and genre synonymously
Pure Noise Records Tour

Photo Credit: Sara Blankemeyer (shootthescene.com)
Four Year Strong / Hit The Lights / Forever Came Calling / Light You Up – March 20th – 29th
If you're not excited for this tour you should question if you really do enjoy pop punk. Two of the most energetic and musically sound pop punk bands of the decade with two of the most exciting bands to emerge in recent years.
Into It Over It and Modern Baseball
March 24th – 29th
By the time March rolls around I think we'll all be ready for a good old moan and get back into the cycle of self reflection and questionable life decisions…and who better to understand you and guide you through.
Real Friends
March 19th – 22nd
Pop punk / melodic kings Real Friends are sliding off the All Time Low tour for a few headline dates in the UK at some very intimate venues, so be sure to catch them for a unique chance to get closer to a band who already pride themselves on a personal connection with their fans.
Yellowcard and Less Than Jake
March 5th – 14th
Less Than Jake have been hitting the road for 20 years now and can still tear it up like it's their first album release. Expect to hear the classic ska anthems shuffled with new material. Yellowcard are now over 10 year veterans so expect the same from them with more violin and maybe a back-flip or two.
The Early November
April 21st – May 1st
It's been two years since The Early November came back from hiatus and relaunched their sound with In Currents, and after a slot at Slam Dunk 2013 they are returning in 2015 with their first UK headline tour. If their set at Slam Dunk is anything to go by, expect a seamless blend of '03 pop punk and melodic indie rock
Alkaline Trio and NOFX
June 27th – July 4th
NOFX have been a band for around 30 years and Alkaline trio nearly 20, and therefore have cemented their own legacy on the punk scene. To have both bands on the same bill is pretty special, so even if you haven't been an avid fan of theirs you'll get to see the band that helped inspire your favourite band.
By Matt Henson
The Pop Punk Days