On Saturday 21st September an amazing day of ska descended upon the O2 Academy in Birmingham. The line up for the Fireball Tour included; Like Giants, Ladybird, Thieves of Liberty, King Prawn, Snuff, Save Ferris, Goldfinger and ofcourse Less Than Jake.
Birmingham's own pop punk Like Giants opened up the event. The band had good energy but there wasn't much of a crowd, think due to the times the first few bands even though they were awesome. There wasn't too much crowd excitement.
As King Prawn takes to the stage the room is starting to fill up. King Prawn played all the favourites including The Dominant View, Smoke Some Shit and some newer tracks from The Fabulous New Sounds Of. King Prawn as always bought a high energy set, which seemed really quick they knocked their tracks out. But the crowd was having a great time!
90's punk legends Snuff were up next. Who I hadn't heard of I'll be honest. But they sounded good.
Next up were the California ska legends, Save Ferris. I missed them last year at Slam Dunk which I was gutted about. But once this line up was announced I knew I had to go. And let me tell you Save Ferris did NOT disappoint. Monique Powell is absolutely mesmerising, she has an incredible stage presence with her tales about ex-boyfriends from the warped tour, getting a stubborn guy down front to clap… They were highly anticipated by not only me but a very full main room at the Academy at this point. They even played I Know from 10 Things I Hate About You, which made my night. And of course they ended on their famous cover of Come On Eileen.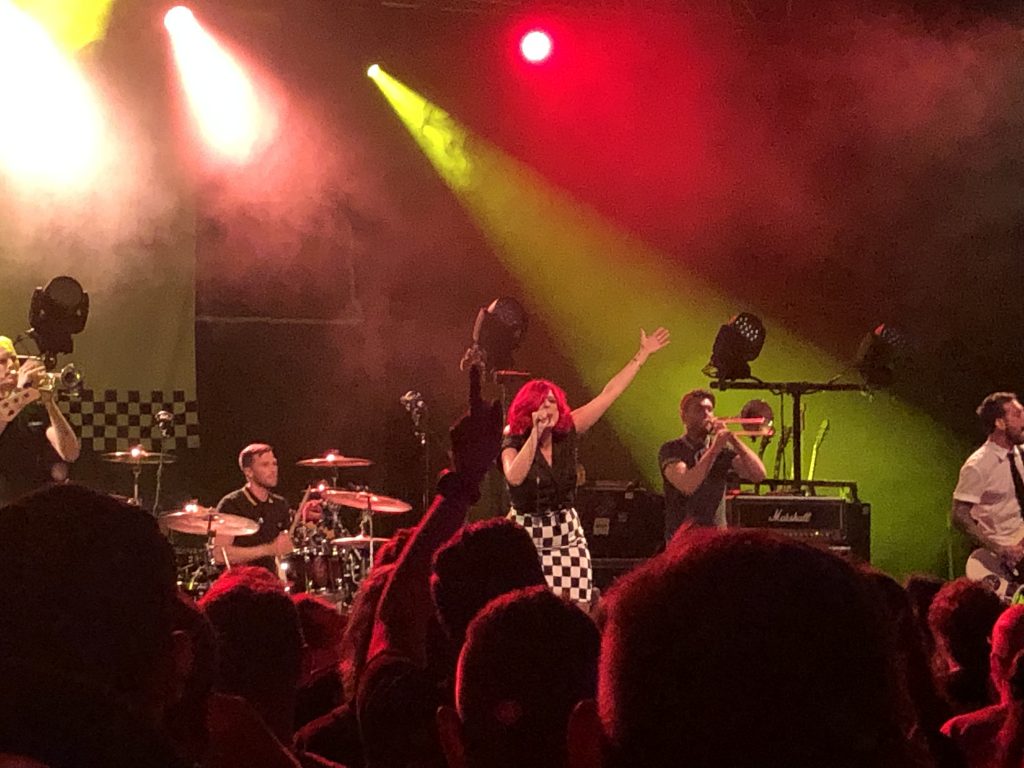 Next up we had Goldfinger, who put on such a high energy show. They're a band I've seen a couple of times at festivals but never in a venue like this, and I gotta tell you this was one of the best times I'd seen them. The crowd went insane for their cult hits; Superman and Here In Your Bedroom. And they HAD to play 99 Red Balloons which everyone was loving!
Lastly Less Than Jake took to the stage for a VERY much anticipated set; Hello Rockview in its entirety. As usual, the band were full of energy and their usual on-stage fun presence was insane, they were on top form. From that first note of Last One Out Of Liberty City to the last note of Al's War, the WHOLE crowd was having THE best time. Singing/screaming lyrics of songs they hadn't heard live, and dancing the Academy was literally buzzing. So they played Hello Rockview in order which I didn't expect but it was so freaking good to hear songs I'd loved as like many this is my favourite Less Than Jake album. They also did an encore of the hits as expected we got Look What Happened, The Science of Selling Yourself Short, The Rest Of My Life, Plastic Cup Politics AND Gainesville Rock City. Hands down this was THE best time I've seen Less Than Jake. So if you have the chance to go to London to see Hello Rockview in full DO IT! You will not be disappointed! Also special shoutout to Matt Stocks for spinning the anthems in between bands!